Every year in Brugge, a very famous city in Belgium, puts on a big Ice show. 30 artists from 12 different countries including the USA come together to form a team and create these massive ice sculptures. Last year's theme was Paris Disney. This year's theme was Harry Potter, The Hobbit, and Lord of the Rings. If you would like some information like pricing & addresses you can check out that link
Here
.
This year we went for my son's 9th birthday. We took one of his friends and off to the train station we went. We had to change trains in Brussels and while we were hustling our way to the next station we saw a huge gigantic train made all in chocolate. It was to celebrate Brussels chocolate week.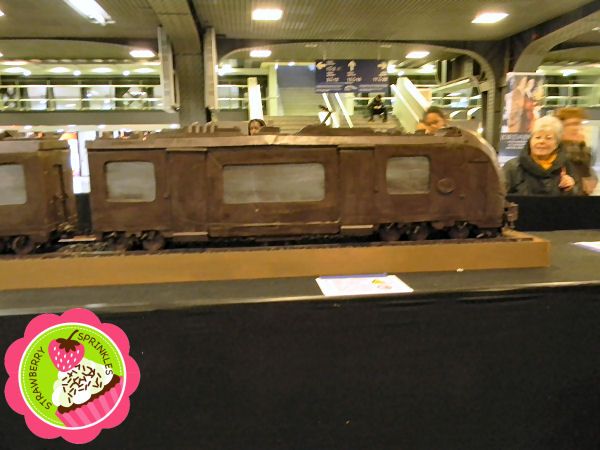 We had to take 2 trains to get there and it can be quite a bumpy & long ride. The boys did really well and my husband I just chatted the whole way there. It wasn't too bad and most of the trains were fairly nice. They have 2 classes. You have first class and then you have 2nd class. We went on a weekend day so our fare was half price and kids under 12 are free which saves a bundle of money.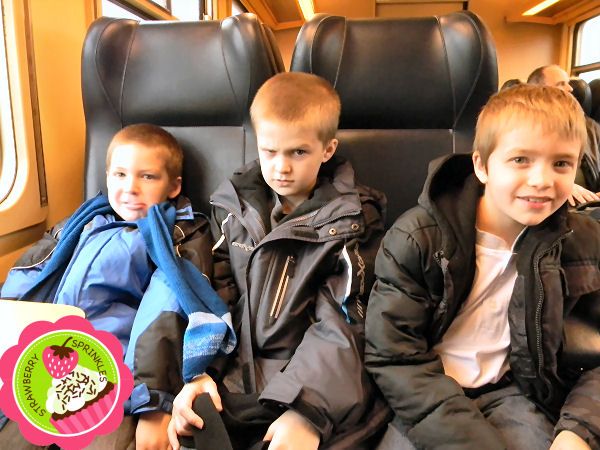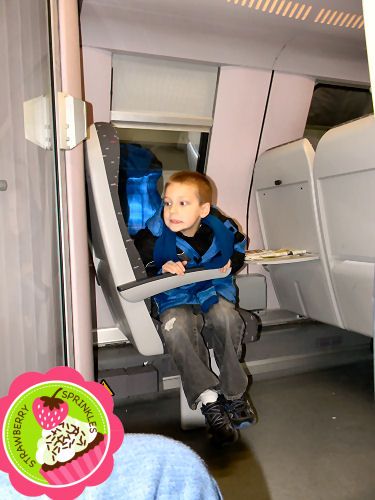 My children and Jakob's friend Jeremy being goobers on the train. I love the second picture. It perfectly captures my youngest son's personality. He is quite the character.
We finally make it the Brugge train station. I had been previously disappointed because there was no StarBucks at the Brussels midi station. What do I find staring at me in the Brugge train station??? Yes, a Starbucks!! It wasn't there last year. The Starbucks in Belgium are all hours away from me so I took advantage of this magical moment and got a Starbucks Caramel Macchiato. Let me just say there was a moment between me and my coffee. I also got a new Starbucks mug to add to my collection & the new 2012 ornament for the tree. I am thrilled! I love coffee. The boys also got some cinnamon roll things and hot chocolate. They were loving it.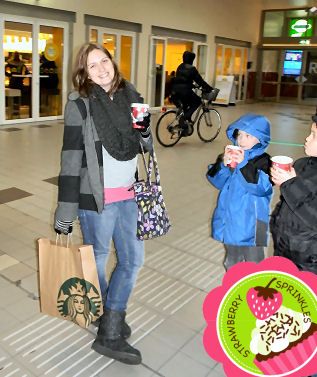 After my freak out because there was a brand new Starbucks in the station we headed over to the Ice Festival. When they say it's chilly, they mean it. They gotta keep that ice cold. I had 2 layers on plus a wool jacket and massive scarf and gloves and I was frigid. The boys were cold but they didn't care. They were too busy going down the ice slides to care worry about that.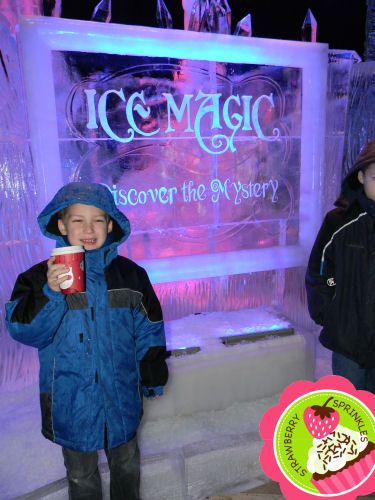 A little dwarf dude and Ice Festival sign greeted us and that is when the cold hits you. You need a minute to take it all in that is for sure.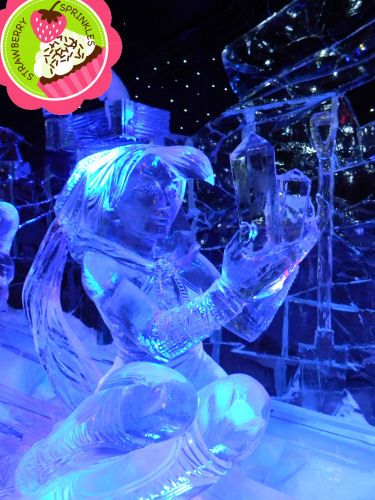 I want to party with those guys!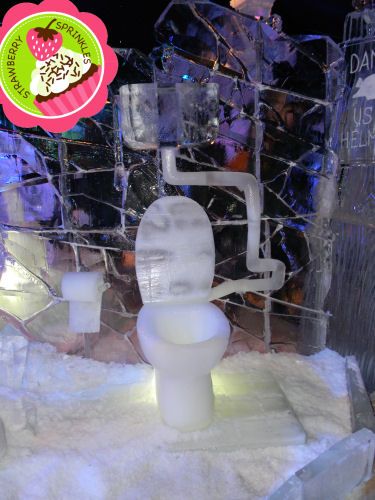 You know some one was ribbing their friend and saying "I dare you." Seriously..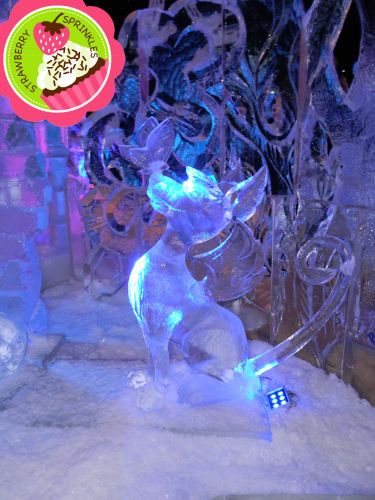 I think the sculptors have a sense of humor.
Giant mug o ice beer anyone?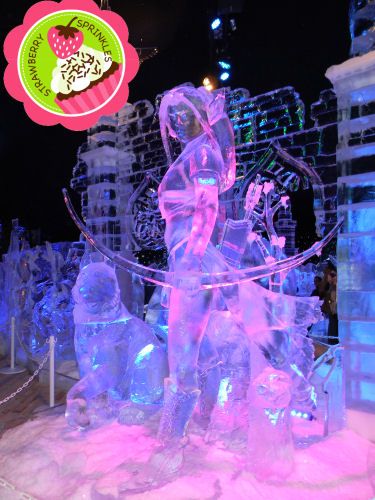 You Shall Not Pass!!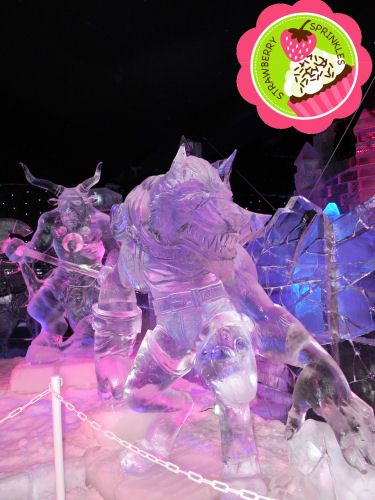 Scary!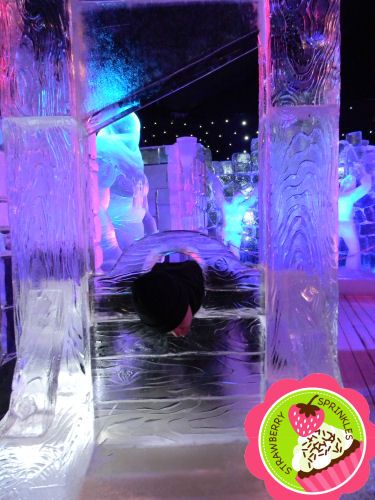 My husband losing his head!
Chilling literally =P
Seriously an ice slide!! How fun is that?!? To bad they didn't have the ice shovels this year to let the kids fly down that thing. I wonder if people got hurt with it last year and that is why they didn't do it again.
Jakob and his friend Jeremy.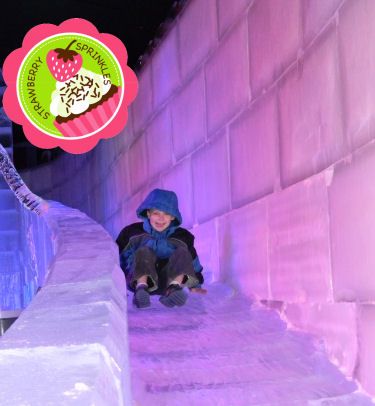 My little man Conner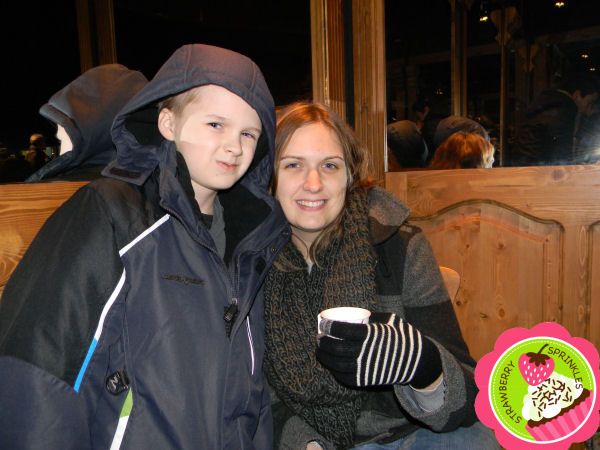 Finally able to relax with some coffee and warm up! I hope everyone enjoyed living through us on this magical journey through the ice. If you get the chance to go, please do! This is a once in a life time experience and something you won't regret getting to see. This was our last year being able to do this so I am glad we went.