My children were in VBS this last week. If you have not had the chance to put your children in Vacation Bible School yet, look into a local church that has the program because it really is an amazing program. Next year I am looking forward to volunteering as well. Anyways the volunteers did such an amazing job this week I wanted to something nice for them. So I figured I should use my baking skills to do that. I baked these cookies. So I had a total kitchen FAIL when I first made these. In all my excitedness (totally new word) I forgot to put eggs in my dough. Yeah seriously bone head move. The original recipe calls for you to refrigerate the dough for 4 to 6 hours. So I did that. Well when I pulled the dough out 6 hours later it was like a hard rock. I knew that was not right. So I went and looked at the recipe again and ding, the light bulb totally appeared over my head and I knew I had forgotten the eggs. So I redid it all and adapted the recipe. The cookies are amazing and the VBS workers loved them. So win win!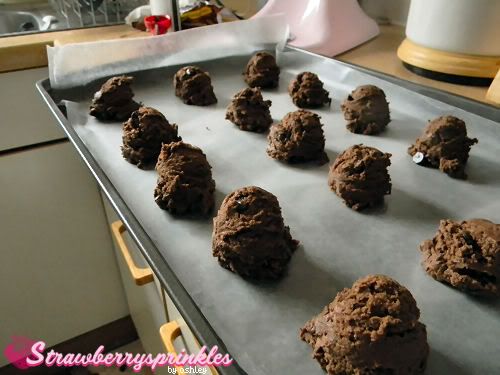 Recipe from
How Sweet Eats
adapted by me
Ingredients
1 cup butter, at room temperature
1/2 cup peanut butter
1 1/2 cups sugar
2 eggs
2 teaspoons vanilla extract
2 cups flour
1/2 cup cocoa powder
1 heaping teaspoon of baking soda
1/4 teaspoon salt
4 ounces semi-sweet chocolate, melted
1 cup milk chocolate can substitute semi sweet chips
Directions
Cream butter, peanut butter, sugar, eggs and vanilla until fluffy.
Add flour, cocoa powder, baking soda and salt in a separate bowl and mix until combined. Add the flour mixture to the butter mixture and add in melted semi-sweet chocolate and mix until just combined.
Fold in chocolate chips. Take a cookie scoop and scoop dough on to parchment lined cookie sheets. While cookies are cooking put the dough in the fridge for 20 mins and repeat process.
Bake at 350 for 10-12 minutes.