If that title doesn't grab you, I don't know what will. Let me introduce you to this seriously awesome concept. Check out the facebook site
HERE
also be sure to check out her website
HERE
. Basically in a nut shell PK offers you literally everything you need to decorate cute cupcakes, which if you are decorating challenged like yours truly you will love this website.
I won a giveaway on her facebook page. I won the directions to whichever cupcake design I would like. So I picked the mini tweets (super duper cute name) & told PK I would write a review once I got them done. She then very generously said she would send me the whole kit & caboodle. I was so shocked because this would be my first review since doing the whole food blogger thing. So I agreed 100 percent. I went on vacation to the states right after the box arrived so I just got a chance to make them today and here are my honest thoughts and opinions.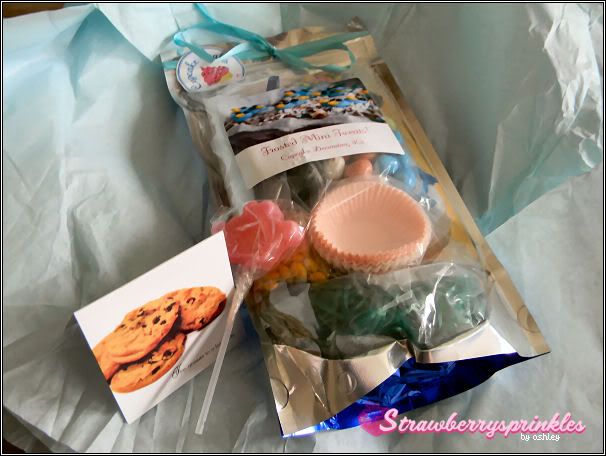 So when I opened the very prettily packaged box, I was so surprised at PK's personalized note. She wrote me a hand written card and it was so sweet and she included a lollipop that my boys fought over hee hee. I really loved how neat and pretty everything was.
How cute is the little card?!?!? I was seriously impressed.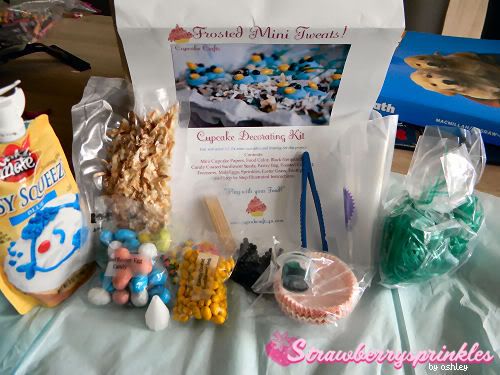 When the company says everything you need to decorate your cupcakes they are not kidding. You can even on the website order some cupcake mix! I was impressed with everything in the bag. I thought it was really well put together and the quality was great. It also included well written and very visual directions on how to put together the cupcakes as well as very helpful hints and a family recipe.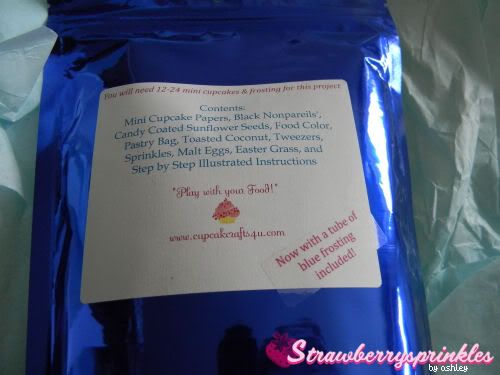 Here is the back of the packaging. I really love the saying on the back "Play with your Food." I totally agree! What fun would food be if you could not be creative and play? Not very fun that is for sure.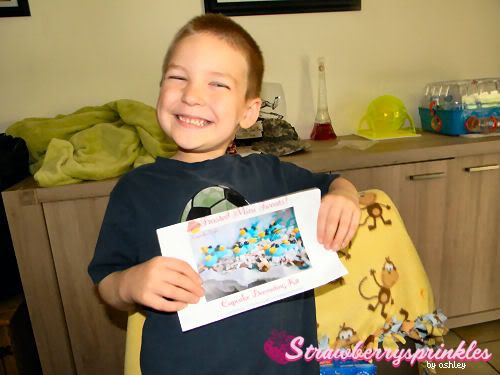 So I found one of my helpers and we were ready to get down to some serious cupcake business! I usually have two helpers but the other one was passed out on the couch because he had such a good time at his sleepover he wore his little self out. So I was down to one and boy was he eager to get his cupcake on.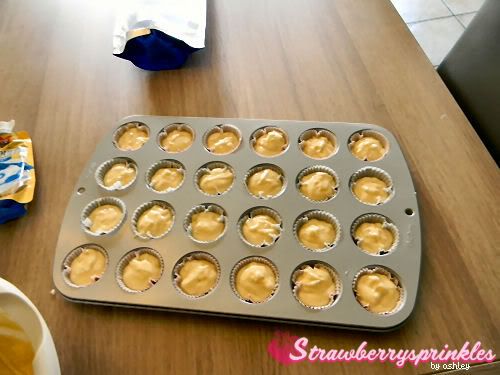 My little helper, helped me mix up the batter and fill up the cupcake liners so we could get them in the oven.
I then noticed that the blue frosting was stiff. So I thought I would get it more pliable if I could soak the bag in some warm water so it would come out a little easier. The cup is pretty awesome though I must say. I got the cup at Disney World on my vacation in June. I loved being back in the states for a little while.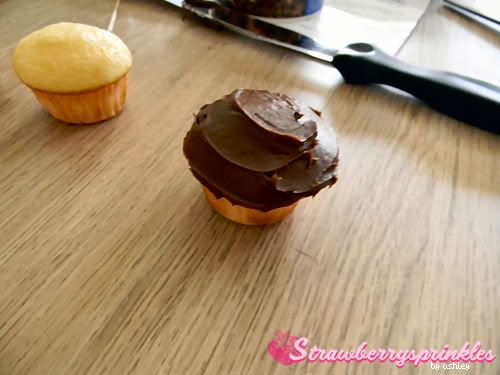 So seriously how cute are mini cupcakes? I don't make them often but I think that is about to change because seriously look at this little guy, he screams cute! I decided to go with chocolate frosting because I didn't want to whip up a bunch of home made frosting because I didn't think it would work with this. So I had chocolate store bought frosting and that is what I went with.
Rolling the cupcakes in the "nest material" or toasted coconut was really easy and took well and looked very nice. I bet any little blue bird would love to perch its self on that.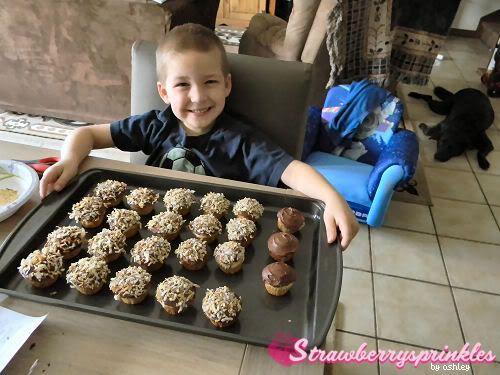 There is my little helper again and he asked so nicely that I obliged his request. He asked me to leave a few without the coconut. I used the cookie sheet to hold the cupcakes for me and it worked well and caught any mess while decorating.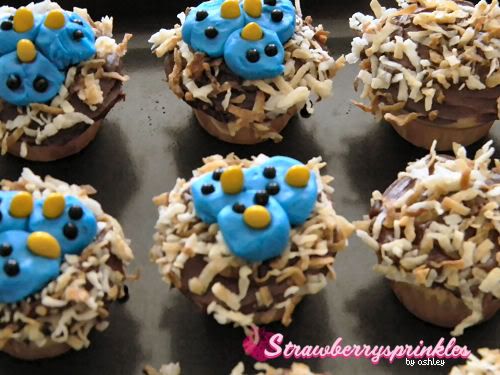 Now onto the fun part. The only thing I would change with this is the blue frosting. The bag of blue frosting really did not seem to want to come out. I ended up taking all the frosting out of the bag and putting it into the pastry bag that was provided and it was a little easier to work with but I think I would make my own frosting and tint it when I do these again. That is the only thing in the kit that I was not a fan of. The results were fantastic though and I am not complaining.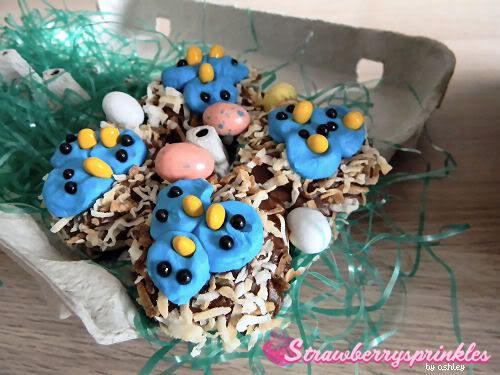 You can really be creative with these little birds. I loved decorating and putting these together. I took a egg carton and used the grass that is provided and my helper pushed all the grass down into the carton. He loved doing that. What a cute way to present this as well.
I took 3 of the candy eggs provided and put them on the cupcake and then put a momma birdie on top. I thought it was super cute!
Guess who decided to grace us with his presence? That is right my other little helper. He decided to chomp down on one of the cute cupcakes.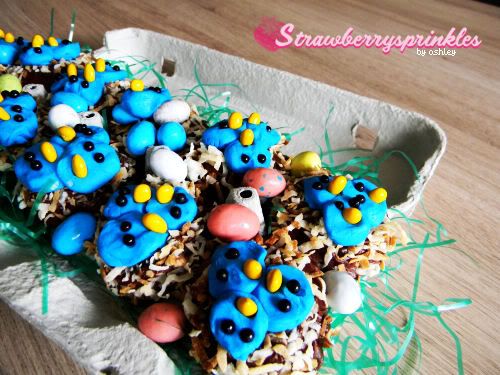 Here are pictures of the final results. Now I can not decorate honestly to save my life. I can barely frost a cake. Did you see my caramel cake? Enough said haha. So seriously look how cute these look! This was all due to the creativeness and ingenuity of Cupcake Crafts!
These are perfect for school projects, school birthday parties, any kind of birthday party, gifts for friends, or even to just take to work to surprise co workers. You don't have to be a seasoned decorator thanks to Cupcake Crafts. I am living proof of that and I really have to thank PK for giving me the opportunity to test these & for making me look like a cupcake pro! You rock & I can not say enough good things about your products.
I really hope you guys will check her out and if you decide to order from her tell her Ashley over at Strawberry Sprinkles sent you.
Once again find her awesome products
on Facebook
Also find her
on her website