So really who does not sprinkles! They are fun & are the life of the party and lots of fun to decorate with. They however are not fun when the decide to bounce out the bowl you dump them in to decorate the cupcakes with. Everyone loved the final results and my son (little helper dude) couldn't even wait for them to be iced he decided to clean the batter bowl and scraper attachment thingamajig.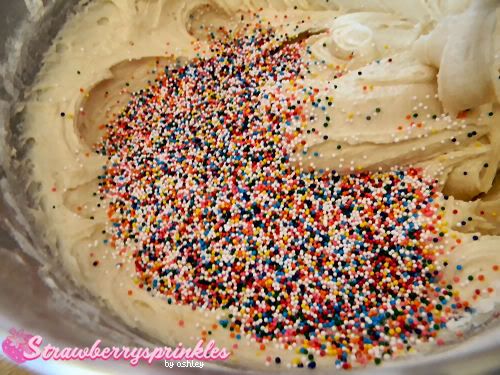 See look how fun they look just in the batter. I wanted to seriously just take a handful and down em right there.
I loved how swirly they looked in the batter. I didn't have any cutesy decorated cupcake liners so I had to use plain Jane ones but with these cupcakes I am kind of glad because they may have been too bold if you get my meaning.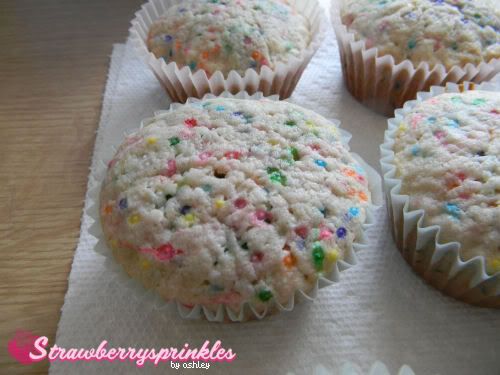 Seriously?!?! Wow, they just are beautiful. Yes it takes someone who loves food to appreciate the artistic value of them. HAHA.
Little man was in to big a hurry to wait for the final product.
Our Lab Daisy was also curious as to what this amazing smell was. Not sure if she got a taste in or not. I am thinking no because Conner was not keen on sharing his batter.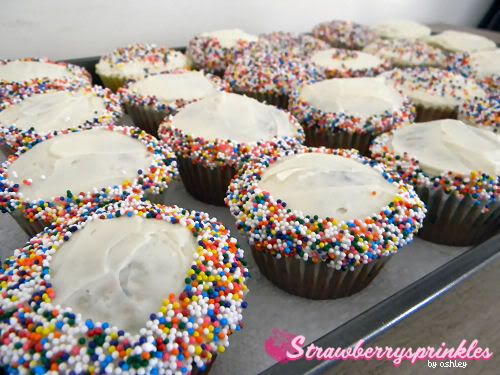 Aww look how cute! I loved how they came out. They are a more dense kind of cupcake but so good. The icing was also superb. This is my new favorite buttercream. I usually do the really pretty swirlies but decided on something much more fun for these babies. As the French say here in Belgium Bon Appetit.
Home made Funfetti Cupcakes-
How Sweet Eats
Ingredients
makes 12 cupcakes ( I doubled this)
1/2 cup butter
1 cup sugar
2 whole eggs
1 tablespoon vanilla extract
1 1/2 cups flour
1 teaspoon baking powder
1/3 cup milk
1/3 cup assorted brightly colored sprinkles + more for top of frosting
Directions
Preheat oven to 350 degrees F.
Cream butter and sugar in the bowl of an electric mixer until fluffy, about 3 minutes. Add eggs and vanilla and beat until combined.
Combine dry ingredients in a bowl. Add half of the dry ingredients, mixing until just combined. Add the milk. Once mixed, add remaining dry ingredients. Fold in assorted sprinkles.
Pour into cupcake tins and fill 2/3 of the way full. Bake for 18-20 minutes. Let cool, then frost.