I made these for a friend who was in the hospital. I wanted to give her a break from the hospital food and to say thanks to the doctors and nurses that took such amazing care of my friend here. If you have never had to be hospitalized in a country that is not your own, well it can be frightening and they took good care of her so I was seriously thankful. So I came across these and I knew that I had to make them and it was a blast sharing some of our culture with the Belgians. I heard I was popular after she handed them all out =P I used a different frosting than the original recipe here. Feel free to experiment and find what you like.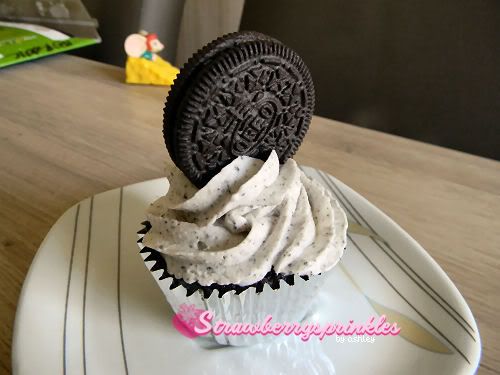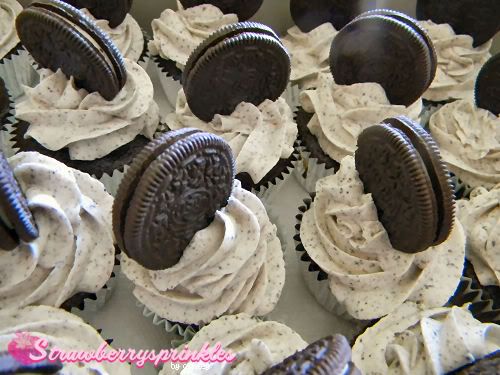 Cookies & Cream Cupcakes
Source:
Bakerella
Ingredients:
1 1/2 cups all purpose flour
1/2 cup natural unsweetened cocoa
1 1/4 cup sugar
3/4 teaspoon baking soda
1/2 teaspoon baking powder
1/2 teaspoon salt
2 eggs
1/2 cup vegetable oil
1 teaspoon vanilla
3/4 cup milk
3/4 cup hot water
24 Oreos, plus more for crumbs
Frosting:
1 cup shortening
1 lb. powdered sugar
1 teaspoon vanilla
3-6 Tablespoons milk
2 or more teaspoons Oreo cookie crumbs
Directions:
Preheat oven to 350 degrees.
Line tray with 12 baking cups.
Place one whole cookie in each cup or break apart at least 12 cookies and place the broken pieces into each cup.
Mix the flour, cocoa, sugar, baking soda, baking powder and salt in a large mixing bowl using a wire whisk.
Add the eggs, oil, vanilla and milk and mix well until thoroughly combined. Add the hot water and mix until combined.
Transfer the batter (it will be very liquid) to a large measuring cup and then pour batter into each baking cup so it's about three quarters full. You should have a little left over.
Bake for 16-18 minutes.
Frosting:
Beat the shortening in a mixer until smooth.
Add vanilla and mix until combined.
Add the powdered sugar in three additions, scraping down the sides after each addition.
Add a Tablespoon of milk at a time and mix together until you achieve the consistency you like.
Add the cookie crumbs and mix until completely combined.
As the French say Bon Appetit.