Brunch.. I sort of love that word. It is made up of two words that I love, breakfast and lunch. What's not to love?? So a few of my friends and I decided we wanted to have brunch selfishly of course while our kids were at school. I wracked my head and brainstormed of course with Google to figure out what I wanted to make. I finally settled on a tart and/or cinnamon roll cake. First cinnamon roll cake.. yum! It saves me from having to make home made cinnamon rolls which is a good thing because working with dough is seriously not my thing. so I ended up deciding on the tart because it was quick, painless, & of course easy which is never a bad thing in my book. So there you have it. That is my brainstorming process..Google, it never fails me. I <3 you Google! Seriously make this! You won't regret it I promise, your loved ones will love you even more and your friends might just stay your friends longer after they have a bite of this!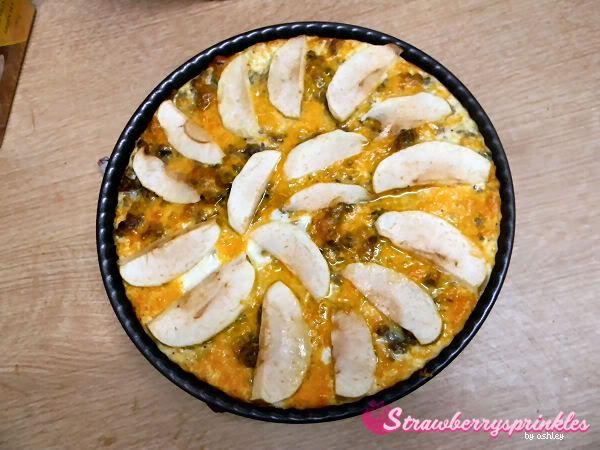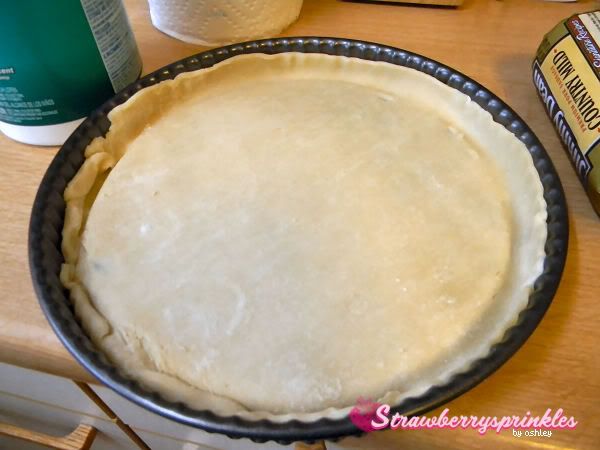 You start out with crust (store bought or hand made). I was going for quick and easy so store bought it is. Last time I worked with dough.. it wasn't pretty. In fact I may or may not be traumatized from it, I am talking nightmares where a dough monster tries to get me people.
I strayed from the recipe and added green peppers. A MUST!!! Seriously this adds so much flavor & I can't imagine eating this without it.
This is where you need to pay attention. DO NOT use the bag shredded cheese. Buy a big block and shred your own. It seriously does make a difference. Trust me.
Slice a tart apple thinly and just stick em on there. Be creative.. Make a pattern or even a face =). Honestly this didn't need the apples. They didn't really add anything to it but I guess if you feel like sticking them on there.. more power to you. Next time I make this I won't put them on there. I may stick a pepper or two on top or something.
Sausage, egg, & cheese tart
Ingredients:
4 Eggs
16 oz breakfast sausage, cooked and drained (I used Jimmy Dean Country Mild)
1 green bell pepper or any veggies you want to add
2/3 cup milk
1 (heaping) cup grated sharp cheddar cheese
1 tart apple, cut into thin slices
1 pie crust (pre-made or homemade)
salt and pepper to taste
Directions:
Preheat oven to 350°
Place the pie crust in a 10″ tart pan. Bake for 5 minutes and transfer to wire rack.
Cook breakfast sausage & green pepper in a medium skillet, drain.
In a medium-sized bowl whisk eggs, then add milk and salt and pepper. Whisk again to combine.
Spoon sausage into partially baked pie crust, sprinkle cheese on top of sausage and pour egg mixture evenly over sausage and cheese.
Finally, arrange apple slices on top.
Bake 40-45 minutes until center is set.
Serve warm, room temperature, or even cold.
*Can be made ahead to serve the next day and can also be frozen.
*Store covered in refrigerator for up to 3 days
Recipe by cookies & cups adapted by me!