My family just got back from Disneyland Paris and we had such a fantastic time. I thought I would review it and add some tips and all that fun stuff for anyone thinking of planning a trip.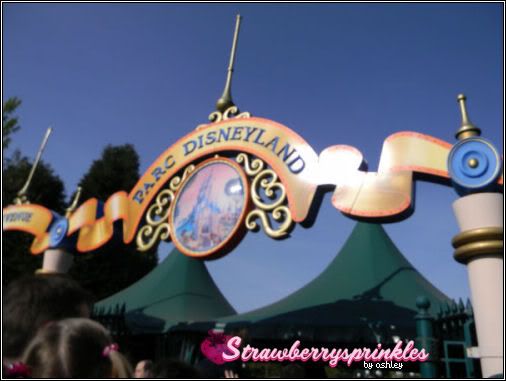 My family started planning our trip in February. I did a lot of research and looked through the hotels on Disneyland Paris's website. Finally I decided that the Sequoia Lodge was pretty decently priced and even better it was very near the park entrances. The website is very easy to navigate and we bought a package right of the site. After you put in your dates and kids birthdays and ages and all that good stuff you pick your hotel that you want and go on to customize your package. We decided to stay for 3 days and 2 nights. On our package I added the Half board meal package which is basically you are prepaying for your dinners and when you get to the hotel they print out vouchers and I strongly recommend you do this. When you are paying in Euro it really adds up especially with the dollar doing so bad. We also added a breakfast with the Disney characters at Cafe Mickey. I am glad we did it for the first time but when we go back I won't do it. I will explain in detail a little bit later. Anyways if you are going to go use the website and book through them. It really was easy and saved us a lot of money. My only regret is not doing the Mickey Mouse show.
A few notes before I get into the details of our trip. While researching and reading reviews I started to get very nervous. A lot of the reviews are very negative. A lot of people complained about the prices, people smoking everywhere, how rude the employees were/are, the hotel staff treated them badly and the list goes on and on.
Firstly customer service is so different over here in Europe. You have to understand there are cultural differences. In America we are used to I want it now, fast, and I expect it to be perfect and the employee to be bright happy and cheery while they wait on me etc. etc. That is not the case here. You have to be polite to them as well and just be aware of the cultural differences.
There were people smoking around the park but it was not horrible & did not bother us much. Also you are going to a theme park so the prices are going to be high, that is just the nature of the beast and the prices were not that bad either and there are plenty of ways to save money. I will put those in my tips at the end. Also the hotel staff at our hotel were fabulous! They treated us well and were very kind and worked with us to make our trip magical.
Now onto our trip details...
We left our home in Belgium at about 1pm ish and right away I was thrilled with our trip because the roads were super smooth. That is quite impressive when you live in Belgium and the roads are so bad the car insurance companies raise the rates and are the leading cause of accidents here (yeah I know tell me about it haha). Also while driving I just could not get over how pretty everything was and how blue the skies were! My husband was also making the trip go by pretty fast by making me laugh almost the whole time we drove. He kept taking pictures of random French people driving by and their faces were pretty classic. Anyways we arrived to our hotel alittle after 4pm so not a bad drive. We also only had one toll and it was about 13 Euro so not bad.
The room was very nice and newly redone and it was so inviting. It was pretty decently sized and the boys loved that they could watch the Disney Channel in English. That is super important you know. We settled in and because we had a 6:30 dinner time we decided to go swim at the pool instead of going to the park the first day. The pool was amazing. They had a locker room where you change and a locker where you put your belongings and lock it all up. Then you go through to the pool. The water was warm and had a super neat water slide and also a water fall. We spent over an hour and a half swimming and having fun. The water also is not super deep. It was not over 6 feet and they supplied swimmies and water boards for the little ones.
We decided to have dinner at our hotel the first night and decided to do Hunter's Grill which is a buffet type restaurant. They had a lot of different foods and is sure to satisfy any picky eater. They even had little mickey shaped nuggets that were cute.
After that we went back to our room. I was exhausted from driving and swimming and we wanted to get plenty of rest for our big day at the park. The boys watched the Disney Channel until they fell asleep and then Jason and I fell asleep as well.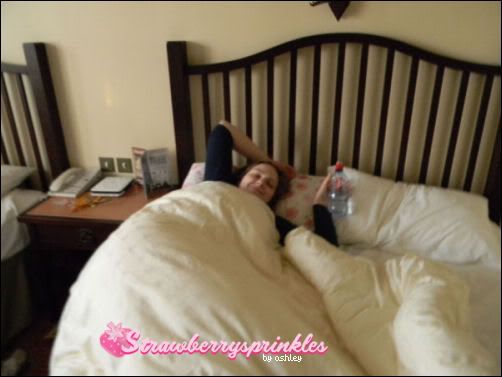 Yay good morning to me. Thanks Jason for the flattering picture haha! So we were up and we had our big exciting character breakfast at Cafe Mickey (we prepaid). So we got all dressed and armed with the backpack and our camera we set off. To be perfectly honest here if this is your first time to the park do the character breakfast. If not I would skip it unless you loved it the first time. It is a buffet style breakfast and you are "supposed" to be able to see a lot of the Disney characters. Well at least that is what is advertised. We saw Mickey (most important) and then we saw Tigger. The Rabbit from Winnie the Pooh was floating around but never came to our table. We got a couple of good pictures and the boys had fun so that is what mattered.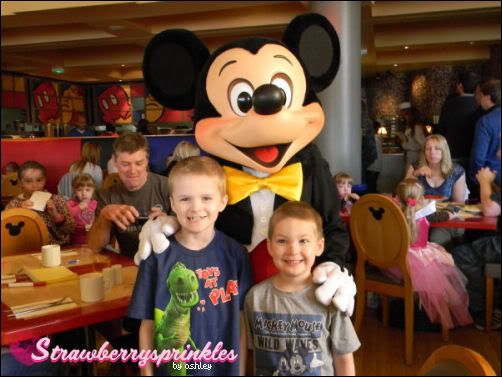 The characters that we got to meet were super friendly and playful. Tigger even came up behind the hubs and harassed him haha!
Then we headed to the park and we had a great day. We got to the park and went right to Discovery Land where Space Mountain 2 is located. If you want to really ride Space Mountain 2 without waiting in line for an hour well if you are staying in a Disney Hotel they let you enter the park 2 hours early. Its kind of deceving because they don't open the whole park. They open Discovery Land and Fantasy Land. The only real high value ride is the Space Mountain but if you don't want to wait in line go then and get the ride in quick. We first went on the Buzz light year ride and that was awesome! It is a great family ride and the line was not long at all. You sit in a cart that spins all the way around which you control and you shoot at the bad guys. Its really a cute ride that both my boys enjoyed.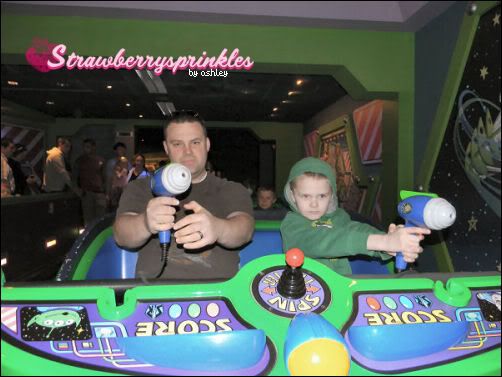 From there we rode Star Tours and that was more for the boys than anything else. I was not impressed but they loved it. It is a simulator ride and it was alright but it made me a little queasy.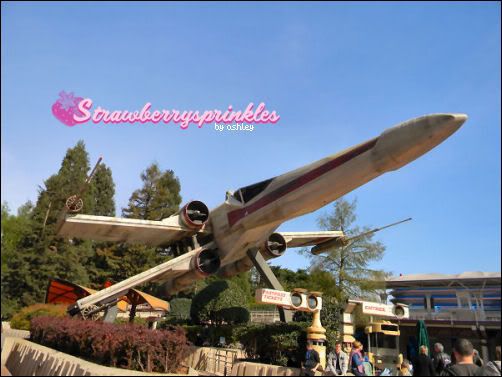 Then we moved onto the Flying Dumbo and that turned out to be a horrible disaster! The line not only was 40 mins long and when you have two little boys who are as impatient as there mom who suck down a coke while standing in line well that spells trouble. Once you get so far in the line it is nearly impossible to get out. Conner started to tell me he had to potty so I just kept telling him as soon as the ride is done we will find a potty I promise. Well it finally was our turn to ride the Dumbos and Jakob and Jason could not find a seat so they had to wait until the next turn around. The ride was 2 mins long and totally not worth the 40 mins in line we waited. Then while we were waiting for Jason and Jakob to finish their ride Conner had an accident. Of course we had decided to not pack extra clothes for them at the last minute. BIG MISTAKE! So after that we decided to ride the train to the front of the park and take the bus back to the hotel and wash Conner down and change him.
We also of course hit the Small world ride and went through the Alice in Wonderland Maze. The Small World ride was really nice to just sit and rest our legs through. It is visually stimulating and the boys loved it. They must have updated it because it did look nice and new and not worn at all. Then we hit the Alice in Wonderland maze and if you have no patience like me and my boys maybe not the thing for you to do. It got really frustrating because of the pushy people and confusion of it all. There is lots to see in there and if you are an Alice fan you will really love it. You get to see the chesire cat and the pelicans and of course the red queen and her silly card minions. You also get to go up in this cool little castle looking thing where you can see a cool view of the park.
Then my husband said The Haunted Mansion ride was seriously worth going on. So I made sure it was not to scary for the boys and after he reassured me for the 50th time we decided to go on it. The line was not long at all really and the Haunted House was really awesome looking. The ride was another good one to rest your legs and it lasted for a little while. We really enjoyed our selves and it was not really scary. My 5 year old Conner was alittle scared but Jakob my 7 year old was not at all. We told them that the ghosts are not real and its just all computers and mechanics and Conner was okay after that.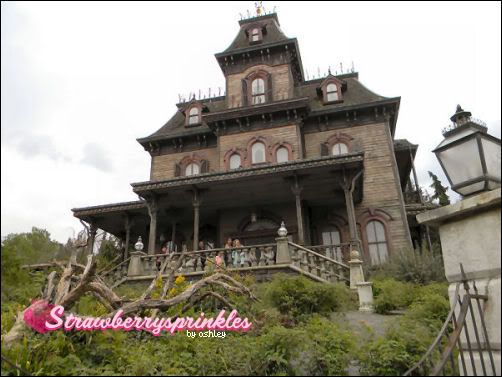 Then after that we decided to go ride the Pirates of the Caribbean ride and we liked that alot. I am a huge fan of the movies so to see what they were inspired from was pretty cool. Also the movies made a lot of the scenes that were on this ride and that was pretty cool. The boys did not like the drops and splashes on the ride but they were not to bad. They also in the same area of the ride have a big pirate ship and coves the kids can play on and explore.
After this ride we went and saw the Dragon below Cinderella's castle and then went to dinner.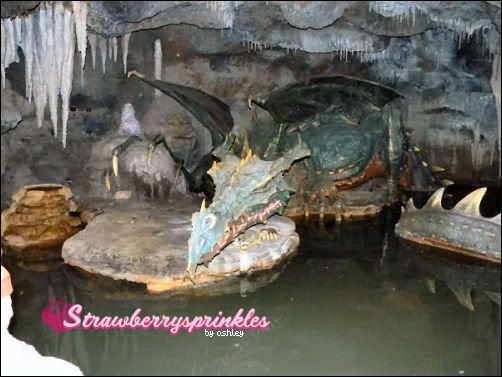 Then we left to go make our 6:30 dinner reservation at this Steakhouse my husband really wanted to try. I wish we had chosen a different restaurant. They honestly did not have much for kids to eat especially if they are picky like mine are. Then when they sat us down they had this empty glass kind of cart next to our table and it was kind of frustrating that they dumped their glasses that were dirty next to us especially since this is supposed to be a fine dining establishment. Then on my side they were making the steak tar tar stuff so we are in the middle of both these carts and um that is awkward. So I ordered a New York Strip steak and instead of fries I just asked for a baked potato with sourcream. Well they decided that I needed the fries because it came with my meal when I asked for them not to. I live in Belgium fry capital lol and I eat enough. The boys did not like their cheeseburgers so they didn't eat very much and the meals are very very expensive which is why I am so glad we pre paid for all of our meals. The steak had a lot of fat and was very chewy. The side salad was okay and the only part I really enjoyed was the dessert and even that was not fantastic.
Then we decided to call it a night after dinner and went back to the hotel and crashed. The next morning we got up and went to the breakfast buffet in our hotel and it was pretty good. I love meats and cheeses with bread at breakfast and they had so much of that! So I was happy. The boys just had bowls of cereals though and they filled up on frosted flakes. So after eating we decided to take advantage of the parks early open and were going to hit some of the rides that had long lines the day before. We were surprised to find out they only opened two sections of the park early = ( So we rode the Buzz ride again and the carousel and then decided it was almost 10 am we were going to go to the Studios park and ride the rides over there. So we go first to the Disney Car movie ride and I am glad we did. It was a cute ride and the boys really enjoyed it. We got to see a lot of the Disney Characters over there as well.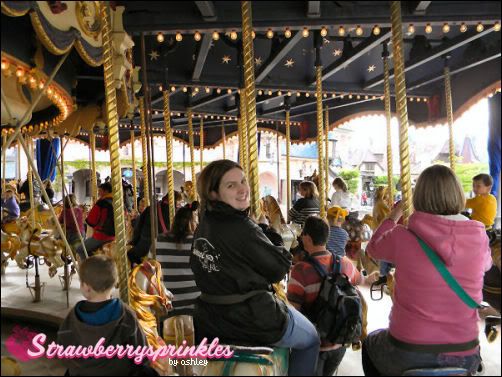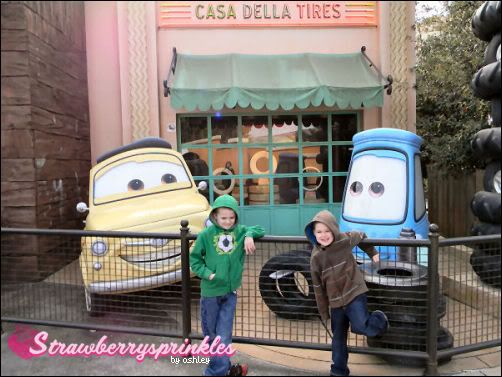 We saw quite a few Disney Characters as well. At the Disney Park we saw Mickey, Rabbit, Tigger, Jafar, Timon, Red Queen, Princess Frog chick, & the Mad Hatter. We couldn't get close to them to get pictures though. At Disney Studios we saw Jesse, Woody, & the Green soldier dudes. We couldn't get close to the soldier dudes because we were in line at Slinky's coaster for the kids and they marched by. It was cool to see them though.
After those pictures were taken we went on the Parachute Drop and it was a really long line wait and I was not a fan of that. Then the Parachute takes you up and drops you not super fast but fast enough to make you woozy. The boys were not sure what to think of it. Then after that we headed over to Slinky dogs coaster for kids and the line was not to bad and it was not super fast and goes around in a circle and the kids liked it.
After that we were getting tired and went to take the Studio Tram ride. Its a tram that takes you behind the scenes and shows you props and how things get done behind the camera. It was not a to bad line and we got on and had a decent view. We got to see props from movies like Dinosaur and Pearl Harbor. Then it takes you to this scene and you go through a earthquake and fires and get this huge gush of water and it was pretty cool. After that though we decided to head for home. The checkout at the hotel was pretty quick and painless and we were really sad to leave such a magical place. We had such a fantastic time and we are already planning our trip and are wanting to stay for a week and stay at the Big Disney hotel. Hopefully on our next trip they will have Cinderella's Castle repairs done and we will be able to go see it. I have some tips and hints to help make your stay as great as ours was.
TIPS & HINTS
* Grab snacks at the commissary or your local market to pack for the car ride up and it helps to take some into the park and while standing in line grab a quick bite to eat.
* Look through the Park guide and find the rides you most want to ride. Alot of the big rides have fast pass and if you don't want to stand in line fast pass the ride and go ride the other ones and come back at the time specified on the ticket.
* Bring a backpack & and bring a change of clothes for little ones. Don't tempt fate. Also pack a few plastic bags in case of an accident you can wrap the soiled clothes in the bag.
* Go as early as possible at the park and find the ride you most want to ride.
* Also in the evening around 5 or 6 people start to exit the park for dinner so if you plan a early or late dinner time you maybe able to squeeze in shorter line times.
* Most of all have fun and try not to let the little things bother you. If you look for the bad you are going to be sure to find it.
I hope if you guys get to go to the parks you have as magical time as we did.