I was chosen to test the sunkissed vox box by Influenster. I was super excited to be able to participate. We've been overseas for the last 3 years and just recently returned to the states and I was really looking forward to getting back into blogging and being apart of influenster again.
These ouchless Ribbon Elastics were apart of the box and I am so glad they were. I hadn't heard of them before and was super excited to try them. I normally don't put my hair up a lot because I get headaches from using hairbands. I didn't get my hopes up for these because normally I just toss hairbands because they bunch up, break, or cause headaches. I tried one and threw my hair up for a day at the pool with my kiddos and to my surprise at the end of the day I still had it in and no headaches and I got tons of compliments. I highly recommend these to my fellow headache sufferers as a cute fashionable way to throw your hair up. You can wear one and look cute or use a few different colors for a adorable and unique look.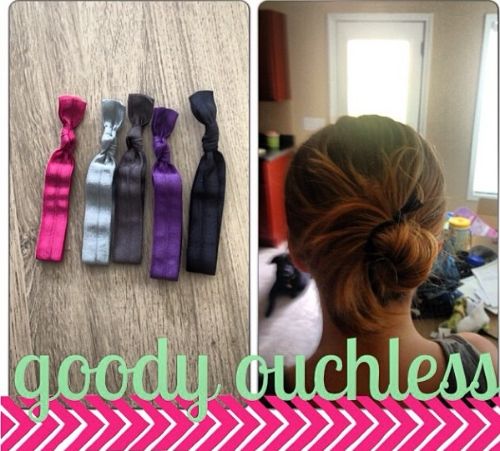 About the product:
*Soft, stretchy material that looks beautiful on the wrist or in the hair
* From America's #1 elastics brand, Goody® Ouchless®
* Unique knot style hair ties are perfect for personalizing or dressing up your look.
You can find more out about these cute accessories and all their other products by going to http://www.goody.com/
I did receive these hair bands complimentary for testing & review purposes from http://www.influenster.com/
All opinions are 100 percent my own. Would love to hear your thoughts =D