Moist... it's just not a word I like to use. It just I don't know quite how to explain my hatred of that word. There just is no other word to describe this delicious cake! It is super ..moist.. and just so good. The cream cheese frosting is the perfect compliment to this cake.
I made this cake for my 27th Birthday. I don't order cakes from bakeries here because the Belgians are huge on like pastry cake piled with lots of fruit. They are delicious but for my birthday I wanted cake, good old fashioned cake piled on with loads of yummy frosting. I also am a baker so that means I am super picky. So I decided none of my friends should deal with my serious obsession with food and worry about what I would like, commissary cake was not happening, and my husband can't bake to save his life.. poor guy lol. So I decided to make my first 3 layer cake. I am so glad that I did. We went out and had Indian food at Ashoks. If you ever find yourself in Belgium in the Mons area please do yourself a fantastic favor and look up Ashoks. The atmosphere is not only so inviting and authentic but the food is fantastic. The chef himself came out and checked on us quite a few times and gave ice cream to our friend's little boy.
I topped my cake with lots of sprinkles to celebrate turning 27 and my oldest son Jakob photo bombed the cake picture, it just makes it that much better.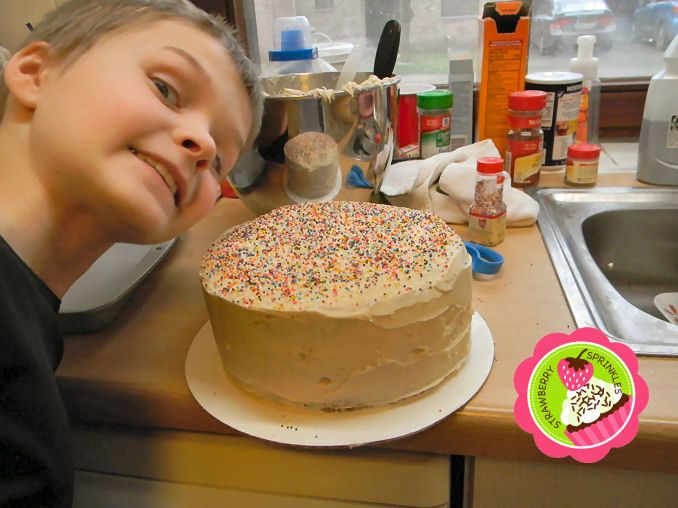 3 Layer Banana Cake by
The Novice Chef
modified by me
Ingredients:
3/4 cup butter
2 cups granulated sugar
3 eggs
2 teaspoons vanilla extract
3 cups all-purpose flour
1 1/2 teaspoons baking soda
1/4 teaspoon salt
1 cup milk
1/2 cup sour cream
4 oz non sweetened applesauce
2 teaspoons lemon juice
1 cup mashed over ripe bananas (about 2 large bananas)
For the frosting:
3/4 cup butter, softened
1 1/2 (12 ounce) package cream cheese, softened
5 3/4 cups confectioners' sugar
2 teaspoons vanilla extract
1 teaspoon cinnamon
Directions:
Preheat oven to 275 degrees F (135 degrees C). Grease and flour 3 8-inch round cake pans. In a small bowl, mix mashed bananas with lemon juice, set aside. In a medium bowl, mix flour, baking soda and salt. Set aside. In a large bowl, cream 3/4 cup butter and 2 cups sugar until light and fluffy. Beat in the eggs one at a time, then stir in 2 teaspoons vanilla, sour cream and applesauce. Beat in the flour mixture alternately with the milk. Stir in banana mixture.
Divide batter (about 2 1/2 cup batter in each pan) into prepared pans. Bake for 40-50 minutes, or until a toothpick inserted into the center of the cake comes out clean. Remove pans from oven and immediately place in freezer for 45 minutes. (This keeps the cake moist by immediately stopping the baking so the cake does not continue to bake when you remove it form the oven.)
For the frosting: In a large bowl, cream butter and cream cheese & cinnamon until smooth. Beat in vanilla. Add confectioners' sugar and beat on low speed until combined, then on high until frosting is smooth. Assemble the 3 layers with a thick layer of frosting in between each layer. Then apply a thin crumb coat on the top and sides. Pop back in the freezer to harden the crumb coat for about 10 minutes. Then apply a thick even layer around the outside of the cake.