I needed to get in the Christmas mood. I love to bake and especially around the holidays. I have just been in a funk lately for some reason. So I decided to surprise the boys and bake some for them and my husband's office.
These were the perfect cookie to make. They are so cheerful and use my favorite Christmas candy made by Hershey. You really have to have the candy cane kisses if you haven't yet. They are just the most addictive thing ever! I even use those to make my peppermint bark.
I hope you enjoy the recipe. They are super simple to whip up and really yummy!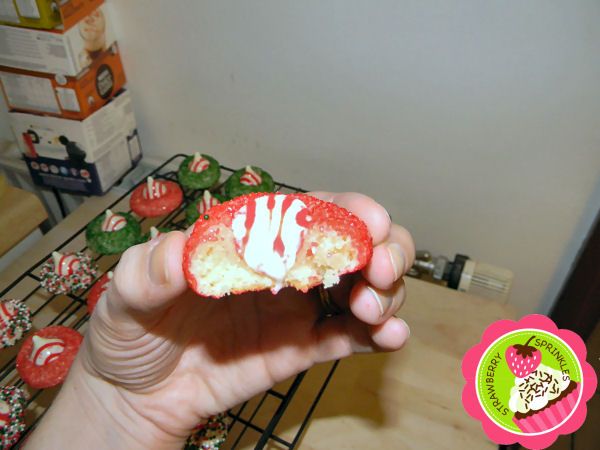 Decided to eat one while they were still nice and warm and they were fantastic!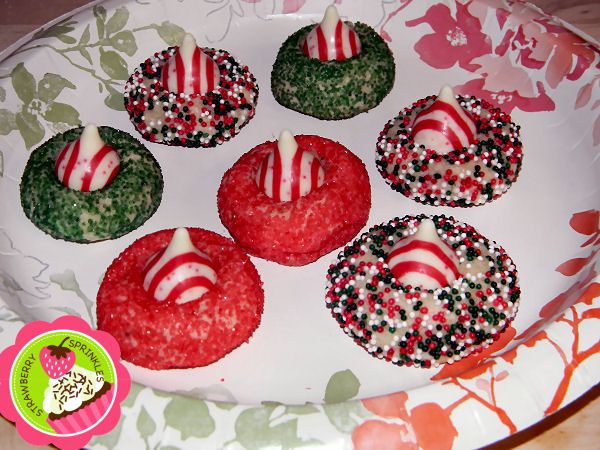 Candy Cane or Peppermint Blossoms
Recipe:
Hershey
Ingredients:
HERSHEY'S KISSES Brand Candy Cane Mint Candies
1/2 cup (1 stick) butter or margarine , softened
1 cup granulated sugar
1 egg
1-1/2 teaspoons vanilla extract
2 cups all-purpose flour
1/4 teaspoon baking soda
1/4 teaspoon salt
2 tablespoons milk
Red or green sugar crystals, granulated sugar or powdered sugar
Directions:
Beat butter, granulated sugar, egg and vanilla in large bowl until well blended. Stir together flour, baking soda and salt; add alternately with milk to butter mixture, beating until well blended.
Spray cookie sheet with non stick cooking spray and line with parchment paper.
Shape dough into 1-inch balls. Roll in red sugar, granulated sugar, powdered sugar or a combination of any of the sugars. Place on cookie sheet.
Bake 8 to 10 minutes or until edges are lightly browned and cookie is set. Remove from oven; cool 2 to 3 minutes. Press a candy piece into center of each cookie.
Bakers Notes:
The recipe said it makes 48 but I didn't make that many, I may have made the cookies a little bigger than 1 inch.
I also unwrapped the candies while the cookies were baking to save them from getting to soft.
To keep your cookies from going flat make sure your butter is not too soft just soft enough to cream with the sugar.
If you don't have colored sugar you can always make your own by mixing some food coloring to about 1 cup of sugar. Add enough color until you get the desired color and just keep mixing. It should dry over night so this should be done before hand.
Enjoy!