So my husband has been bugging me for weeks to make this Buffalo Chicken Pasta stuff. So I finally had enough energy to make it. I have been so exhausted between running to the hospital to see Jason and then having to pick the boys up and then go back up to the hospital, we lived on McDonald's because that is really the only fast food type stuff Belgium has. So I was ready to have some real home cooked food. I can only eat so much McDonald's and cereal. The boys were loving life but my diet not so much.
The recipe is super cheesy and really good. If you like spice or love buffalo chicken wings you will really like this.
My husband loved it and said it was worth every minute he begged me to make this. He has been home from the hospital for about a week and a half. He had to have back surgery done. It was nothing super intensive so he is healing nicely.
I am not an expert picture taker like some of the food bloggers out there so please bare with me =) I hope everyone will enjoy the recipe.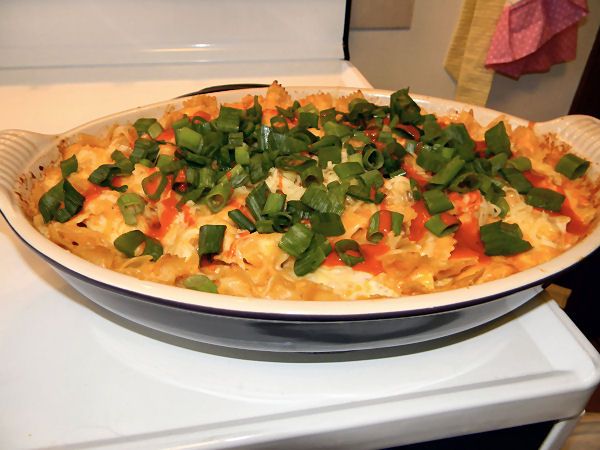 Baked Buffalo Chicken Pasta
Ingredients
* 1 pound of pasta ( I used Farfalle)
* 3 boneless, skinless chicken breasts, cooked and cut into chunks
* 1 tablespoon butter
* 1 tablespoon flour
* 1 1/2 cups milk
* 4 ounces freshly grated monterey jack cheese (I used half a brick) + more for topping
* 1/3 cup freshly grated sharp cheddar cheese + more for topping
* 1/3 cup buffalo wing sauce
* 1/3 cup panko bread crumbs
* for garnish: 3/4 cup chopped green onions, 1/2 cup fresh cilantro, 1/2 cup gruyere cheese, additional buffalo wing sauce
Directions
Preheat oven to 375 degrees F.
Prepare water for pasta and cook according to directions.
While pasta is cooking, heat a medium saucepan over medium heat. Add the butter, and once it's melted and bubbly add the flour. Whisk together to create a roux and cook for 1-2 minutes until mixture gets a bit golden in color. Add milk, stir and turn down heat to low. Continue stirring until milk thickens. Add in grated cheeses and continue to stir until mixture is smooth. Stir in buffalo wing sauce. Taste and season with salt and pepper if needed.
Spray a baking dish with non-stick spray. Add pasta and chicken, then pour cheese sauce over and mix throughly until everything is coated. Sprinkle with additional grated cheese and bread crumbs. Bake for 25 minutes or until cheese is golden brown. Remove from oven and immediately top with gorgonzola, green onions and cilantro. Drizzle with buffalo wing sauce.