So I am brand new to the whole Julep thing. I have seen several friends who have been doing the monthly boxes so I thought you know why not? I should treat myself. The boxes are 19.99 a month and so totally worth it. The nail polishes them selves are amazing. You also get a beauty product as well.
So I got the email that they were doing a Trick or Treat mystery box and I thought why not? I need some fall/Halloween colors anyways. The box is 19.99 but because I am a Julep subscriber I got it for like 16.99 or something along those lines. I also ordered a crackle nail polish as an add on.
That is what I got. I wasn't thrilled but eh. I am glad I didn't get the cheapo bracelet that a lot of others got.
I bought Sabrina the orange crackle thinking I would get the black nail polish in the mystery box but I didn't so not sure what I am going to put it over top of. It doesn't look good with the neon green from Wet N Wild's Saved by The Bell Collection that is for sure.
The colors that came with the box are :
Parker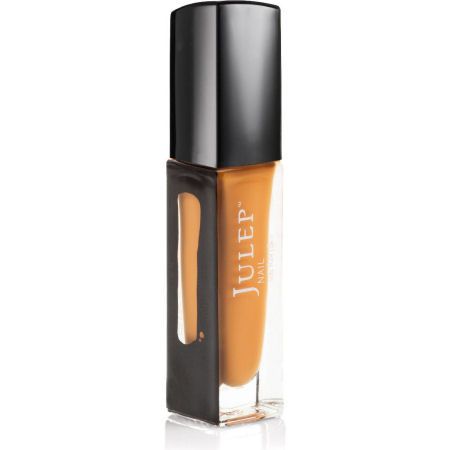 It's described as a "tangerine cream" and I am not sure I am liking it. I will try everything once though and if I don't like it maybe I can swap it with friends or give it to someone who may actually use it.
Alma-
Alma is described as a retro dijon yellow creme and it launched in September of 2012 as part of the Tina Turk collection. I honestly rather like it. It's something bright, new, and different. I am thinking of making candy corn design on my nails if I can master it and not make my nails look like a 5 year old child painted them.
Lastly in my box I received Zoe
I really rather like this metallic orange! I can't wait to paint my nails with this color.
Next lets move on to the glitter pots. I wasn't excited about those because while they are neat colors I don't like to plaster glitter all over my nails because it is insanely hard to get glitter off.
Next the nail tattoos thing. I am never going to use those because I am not patient enough to put them on my nails. So never going to use those either.
I did get candy corn but those got eaten by my children before I had time to snap the picture. So I was pretty pleased with the box. Not sure I will do another mystery box but looking forward to my next nail colors.
Verdict: I would give this box a B-.