So I found this on Pinterest and of course it looked amazing. I needed something easy to try. Jason is out of town on a mission so it's just me and the boys. Easy and quick are essential when you are dealing with 2 kids and 2 huge dogs. Never quiet around our house and it's even more hectic while my Airman is away. I made a few changes to make this as healthy as possible. The boys didn't really like this recipe since it had peas in it but I thought it tasted pretty good. It was fast, easy, came together pretty quick. So give it a try. There are a bunch of variations you could do.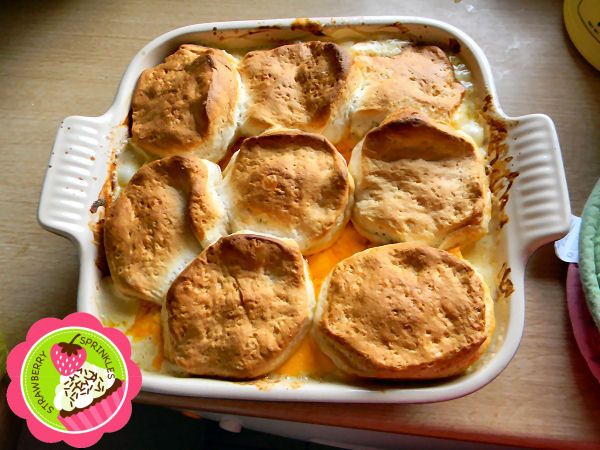 * If you have not shredded chicken with your mixer, you must do that next time you need to shred chicken for anything. It seriously takes care of business in like 10 seconds. No joke! It sure beats shredding it by a fork. *
Ingredients :
1 can of Pillsbury refrigerated Biscuits
1 can fat free condensed cream of chicken soup (regular sized)
1/2 cup of fat free Sour Cream 1 can of peas or mixed veggies ( canned, frozen, or fresh)
2 cups cooked chicken previously cooked & shredded
1 cup mild cheddar cheese you can use fat free
3 TBS milk you can use skim
Directions:
1. Bake your chicken before hand. I bake mine at 350 for 40 mins and I seasoned it with salt, pepper, and a little garlic powder and then shredded it. I baked it in the same pan that I baked this dish in that way I only use one dish for everything.
2. Preheat oven to 375 3. Mix soup and 1/2 cup sour cream in 8-inch square baking dish. Stir in chicken, and peas, milk, & spread evenly in pan.
3. Then sprinkle your cheese on top of everything.
4. If you are using thicker biscuits flatten down or cut in half cover the mixture.
5. Cook for about 35 mins. The Biscuits on top should be golden brown, and the cheese nice and bubbly.